Congratulations to our partners on winning the media competition
The winner of the sixth all-Russian competition "MediaTEK-2020" among the media, press services of fuel and energy companies and regional administrations was the documentary film "Victory Remembrance Shift", created by JSC "Stroyservice". The PR-service of the company was recognized as the best among the regional fuel and energy companies in the category "75 Years of Victory". A special mission in the memorable shift was assigned to BELAZ mining dump trucks.


The Expert Council of MediaTEK has identified a special nomination of "75 Years of Victory" in connection with the large number of works (65 applications) dedicated to the anniversary of Victory in the Great Patriotic War. The first place in the new nomination was taken by "Victory Remembrance Shift", the film of JSC "Stroyservice" (20,000 views per month in YouTube), where the employees of the company talk about the everyday life of their ancestors during the Great Patriotic War. The peak of the film was movement of 130-ton BELAZ dump trucks in the coal mine with huge posters depicting the heroes of the war.
"Victory Remembrance Shift" has already won two prestigious competitions. Previously, the work was awarded at the international festival of documentaries about the mining industry "MineMovie-2020".
JSC "Stroyservice" becomes the winner of "MediaTEK" for the second year in a row. In 2019 the company was awarded a special prize for a large-scale project in organizing a charitable tour of Moscow Theater "EtCetera" and the International Rock Festival "The Heroes of the World Rock" in Kuzbass in honor of the 25th anniversary of the company.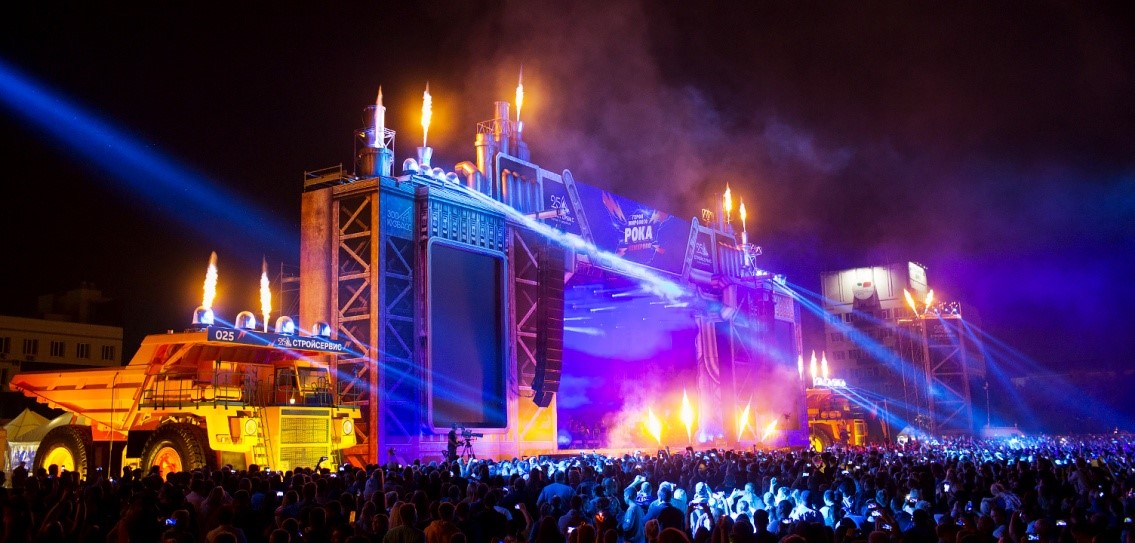 130-ton BELAZ dump trucks as a symbol of coal Kuzbass were involved in the awesome show "The Heroes of the World Rock" featuring Accept, Within Temptation, Royal Hunt and HammerFall. The event was held in Kemerovo on July 27, 2019. At that time, two BELAZ mining dump trucks were part of an industrial-style stage complex and a large-scale pyrotechnic and light show, and also served as an entourage for selfies.
Our congratulations to BELAZ strategic partner - Stroyservice, on a creative victory, which will certainly become a powerful incentive to achieve new heights. We wish your team great success in production and creative projects.