In Honor of Heroes of Labour: Two Personalized 240 MT BELAZ Dump Trucks Started Operation at Mikhailovsky Mining and Processing Plant
For the first in the history of the Company, mining dump trucks BELAZ-7531 of 240MT were commissioned at Mikhailovsky GOK named after A.V. Varichev (Metalloinvest), Kursk region, Russian Federation). Two biggest dumpers at Mikhailovsky GOK were named after honorary veterans of Mikhailovsky Mining and Processing Plant – Ivan Zaytsev and Ivan Nadein.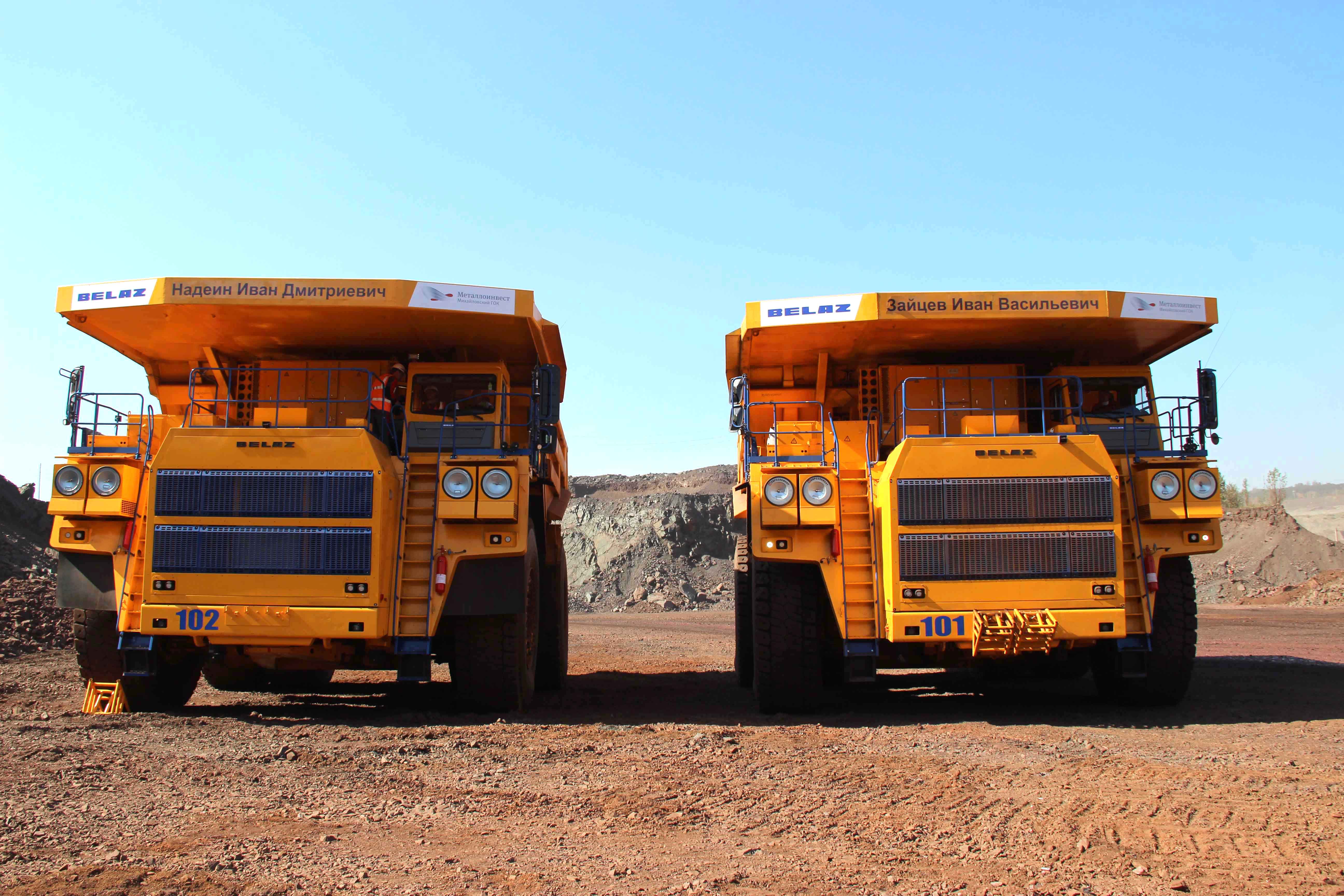 New BELAZ dump trucks of Mikhailovsky GOK were named after the honorary veterans of the Company.
Thus Mikhailovsky GOK continued the tradition to immortalize the heroes of labour and supported the project of OJSC "BELAZ" that started in 2020 and its general distributor in the Russian Federation, CJSC "Trade House "BELAZ", in the naming BELAZ mining dump trucks after outstanding people and memorable dates in Russian mines.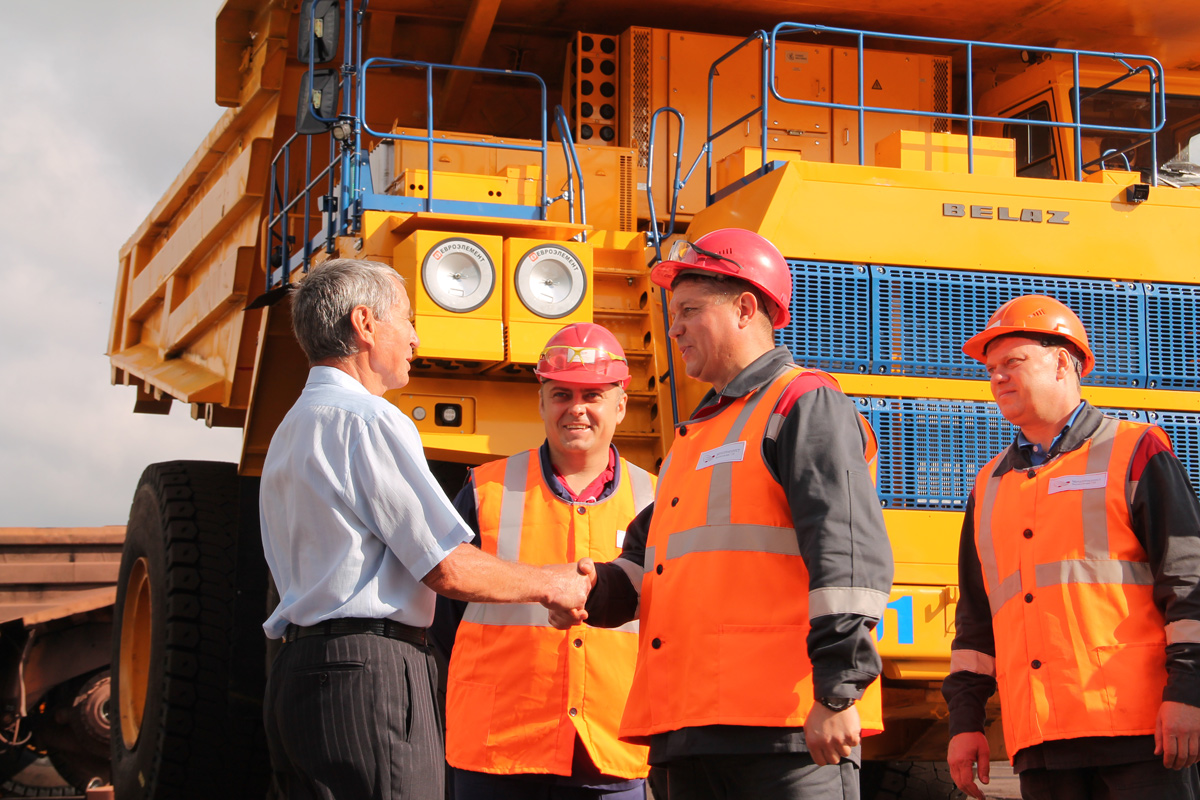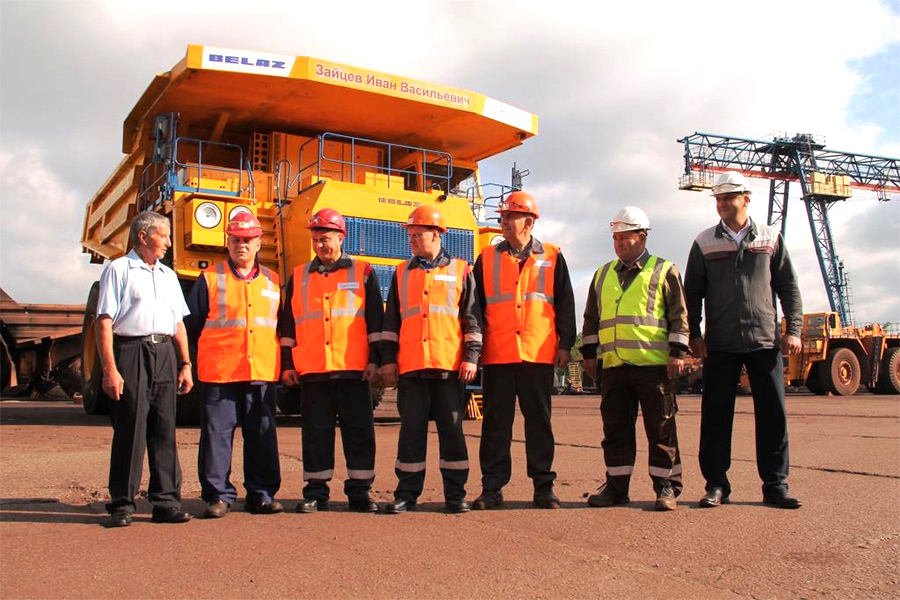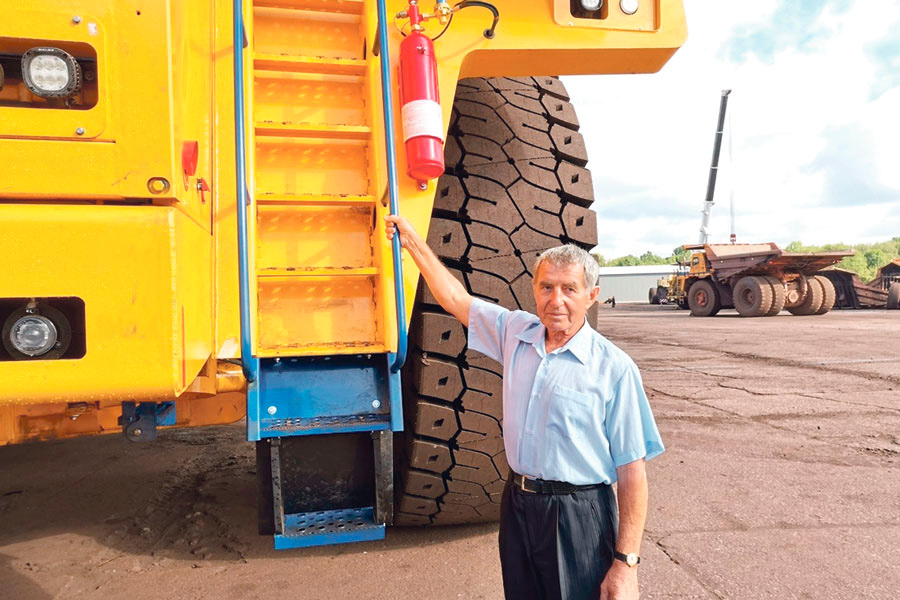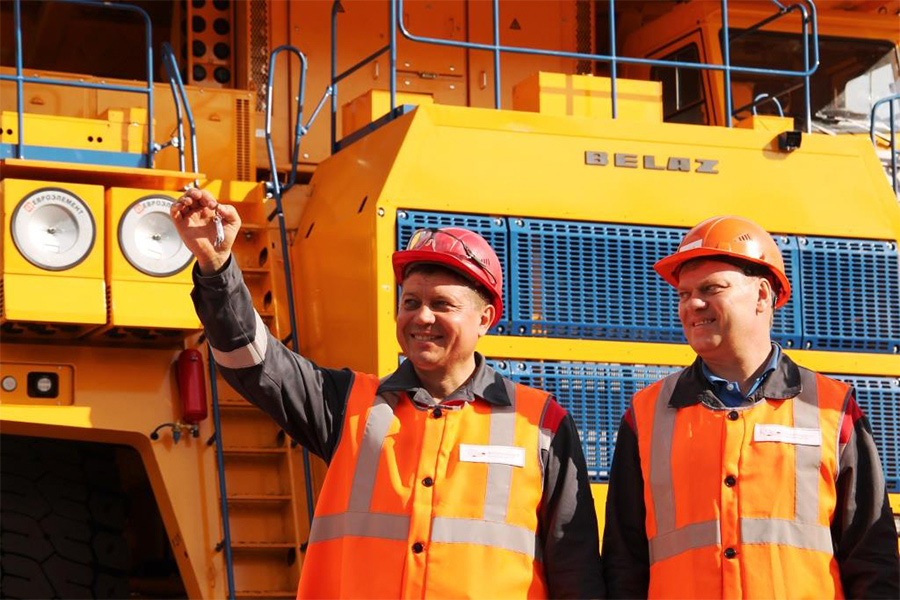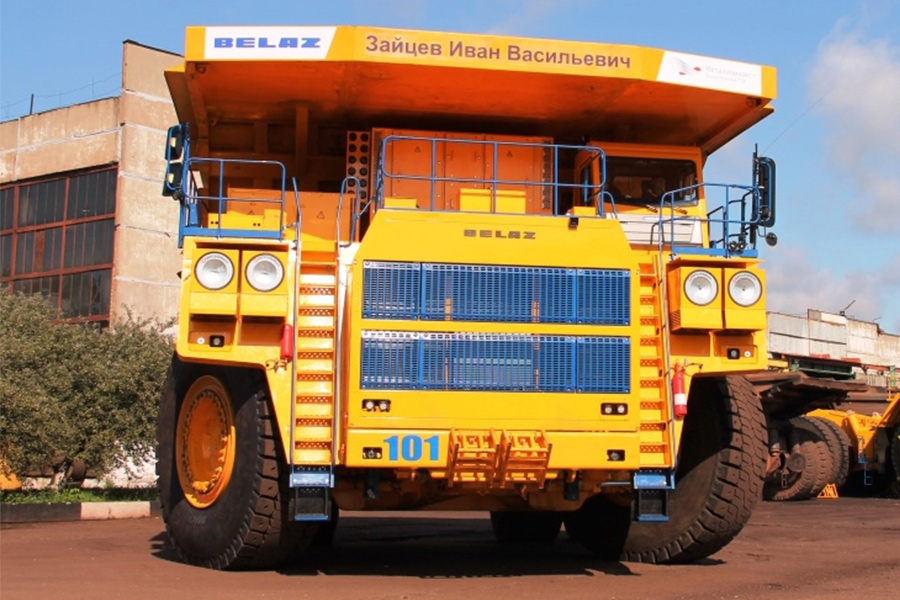 The first run of BELAZ was accompanied by the honorable veteran of MGOK, Ivan Zaytsev, after whom the dumper was named.
Ivan Zaytsev is 71 years old and about 40 years of which he has worked in the auto workshop. He was also awarded a medal "For labour input", title "Honourable metallurgist", "Honored worker of the Russian Federation transport" and "Person of the year".
"When I was told that a new BELAZ dump truck will be named after me, to be honest, I was highly surprised," mentioned the veteran. "I have always been thinking that only streets or vehicles are named after popular celebrities. By all means it is very pleasant to see my name on such a beautiful, modern and mighty truck."
When seeing his giant namesake off to the mine, Ivan Vasilievich personally handed the crew the key from a "personal" BELAZ dumper and wished the operators to work diligently, responsibly and take care of the equipment.
Several days after, the other 240MT BELAZ dump truck that was named after another honored veteran of the plant, the bearer of the Order of Labour Glory of 2nd and 3rd class, Nadein Ivan, started to transport ore in the mine.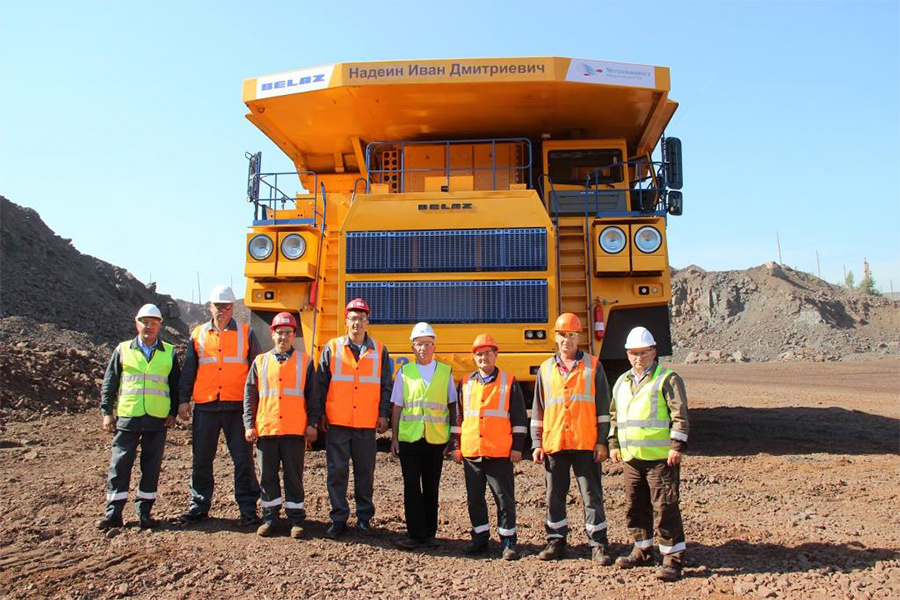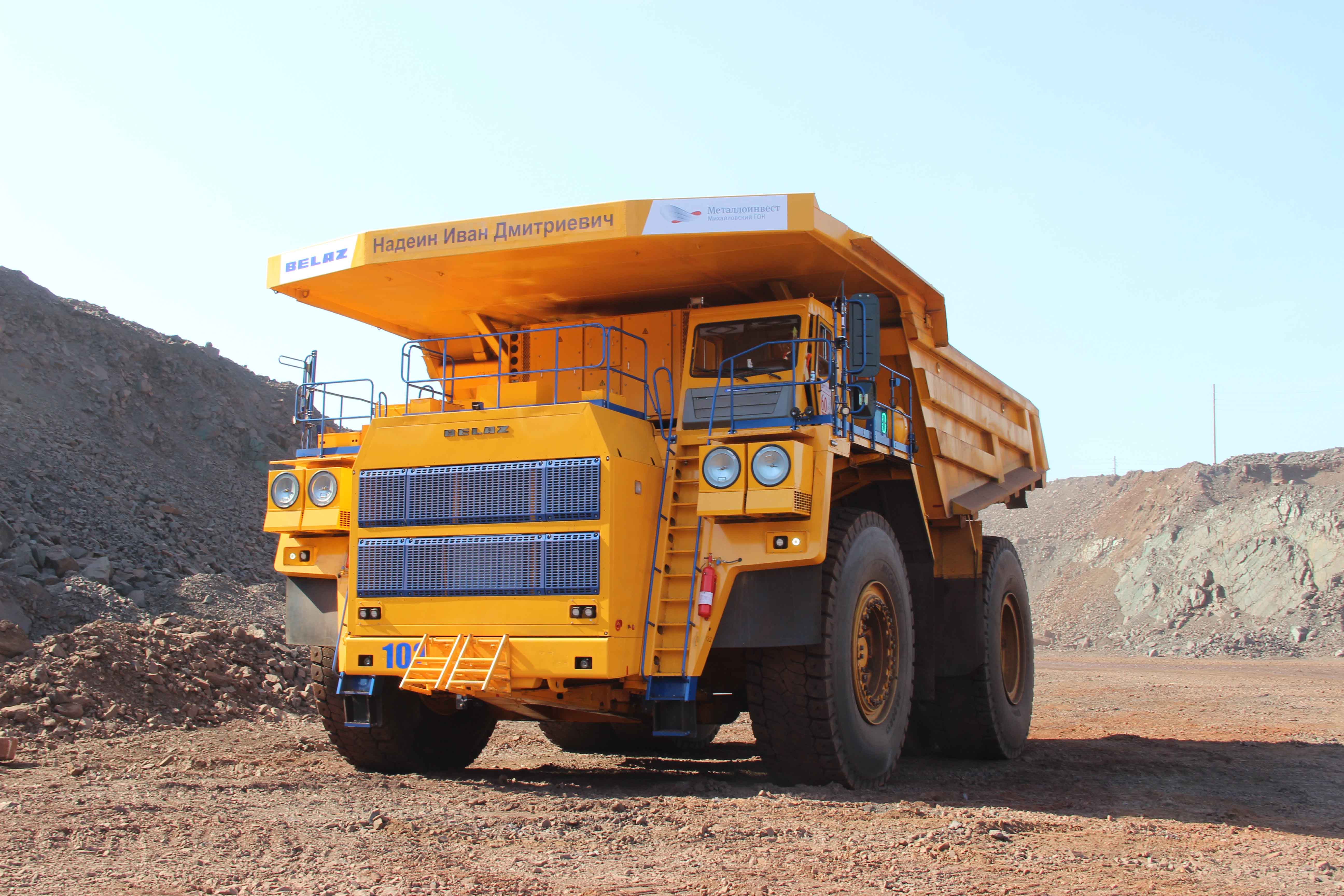 BELAZ dump truck that is named after Nadein Ivan – in acknowledgment of his work and 40 years of employment at Mikhailovsky GOK.
The veteran devoted to the profession more than 40 years. In the beginning he was operating 27MT BELAZ dump trucks, then – 40MT and later he was a head of the operators' crew. Ivan Dmitrievich mentioned that new vehicles are much more comfortable and wished the crew of the dump truck all the success.
Vashchenkov Andrey, a driver of a new BELAZ dump truck, said that it is an honour to operate this special dumper.
Zheleznogorsk mine workers duly appreciated the reliability, functionality and comfortability of new BELAZ mining dump trucks. Dump trucks BELAZ-7531 series with the payload capacity of 240 tons have extended set of functions, low fuel consumption, ride comfort and road stability. Diesel engine with electronic control ensures high power-to-weight ratio and correspondingly high speed of the dumper on the uphill. An onboard computer controls all parameters of the dump truck.
"New BELAZ mining dump trucks are distinguished by high-performance engine, enforced casted elements of the frame and the latest software. These dump trucks are suitable for transportation of rock mass in iron ore mines," said Sergey Rogozhkin, chief engineer of automotive engineering department, Mikhailovsky GOK.
Special attention in BELAZ-75313 is paid to safety and operator's labour. The body with front canopy fully closes process area and cabin as well as protects from rick debris. BELAZ 240MT dump truck is equipped with ROPS/FOPS, fire-extinguishing system, tire pressure control, video viewing system, rock ejectors and high-voltage line proximity alarm.
BELAZ has been cooperating with Mikhailovsky GOK more than decades and this cooperation is being developed not only in terms of the equipment supply but in other mutually beneficial relations. BELAZ mining dump trucks with the payload capacity from 130 to 240 tons form a basis of the mining vehicles fleet of iron-ore mine of Mikhailovsky GOK.
Photos are taken from the press-center of Mikhailovsky GOK