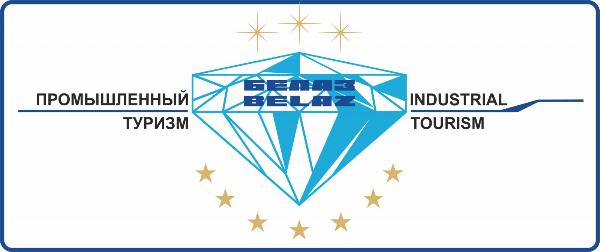 You are invited to visit the world-known BELAZ Company where the up-to-date giants are produced!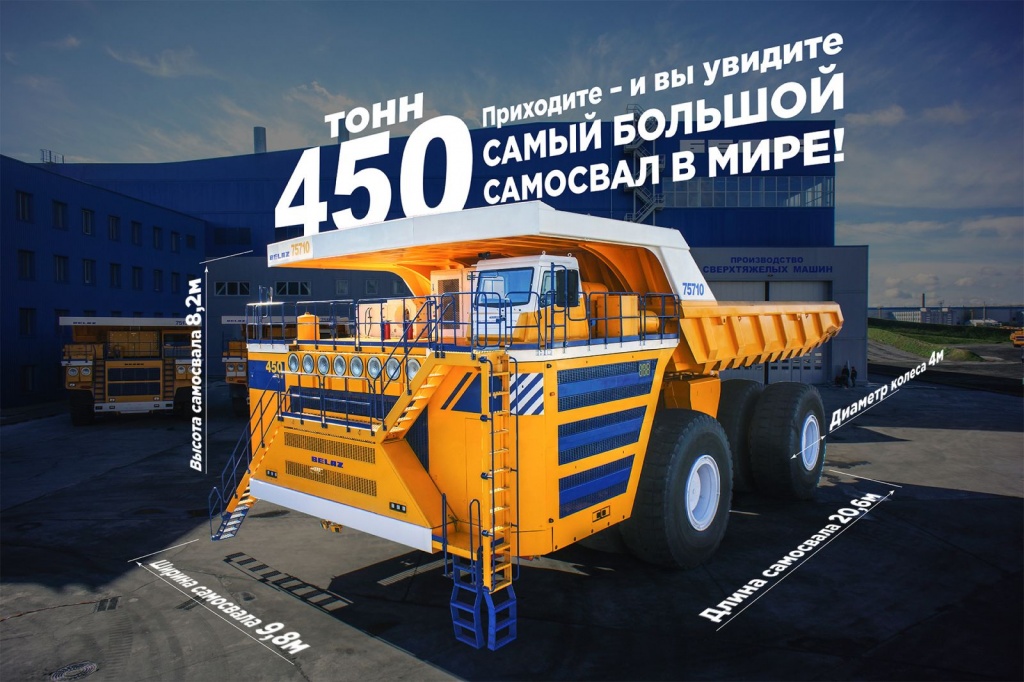 BELAZ was the first Company in the machine-building industry of the country, which opened its doors to the tourists! Since June 15, 2015 our Company has implemented the industrial tourism project "BELAZ – a brand of Belarus". For this period, our Company has been visited by more than 100 thousand of tourists from 20 countries all over the world.
PLEASE, FEEL FREE TO CONTACT US FOR TOUR BOOKING VIA

Tel. + 375 1775 2 72 72
Mob. + 375 44 566 04 72
JOIN US THROUGH SOCIAL MEDIA
CURRENTLY WE ARE GLAD TO OFFER YOU THE SERVICES AS FOLLOWS:
Excursions for children and adults, foreign citizens (mix and individual excursions both for private individuals and organized groups). In the museum of our Company, you will get acquainted with the history of BELAZ Company foundation since 1958.
By means of electric bus, you will travel along our facilities and personally see the process of assembling our BELAZ mining dump trucks.

Further inside of our ultra-heavy dump truck production workshop we will tell you how we assemble the largest dump truck with payload capacity of 450 MT.

Our tourists are mostly enthusiastic with visiting and viewing the models of our produced equipment ranging from "babies" to "giants" at our exhibition area. You will be allowed to see personally the range of our mining equipment, climb to BELAZ dump trucks and take a photo against its background.

In addition, if you wish you will have an opportunity to book a ride on mining dump truck on the testing area as well as to order a gift certificate for such service.
To master the initial driving course of a mining dump truck on a dynamic simulator.

Seminars on engineering topics and management in the engineering industry are organized for specialized groups.

By the end of the excursion, each visitor of our Company is given a special memory present.

The excursion tours are made in such a way so that they should be not only of informative and familiarization character, but proficiency-oriented depending on the composition of the group and individual wishes and requirements of the visitors.
5 REASONS TO VISIT BELAZ!
The tour to BELAZ provides an opportunity to:
– personally see the vehicles unique in its dimensions and capabilities;
– get acquainted with the peculiarities of machinery production;
– take a memory photo on the background of BELAZ-75710 – the largest mining dump truck in the world listed in the Guinness Records Book;
– have a ride on the dump truck with heavy payload capacity;
– acquire a Gift Certificate (a visit to BELAZ Company and dump truck riding) for relatives, colleagues and friends.
The industrial tour at our enterprise develops steadily and contributes to strengthening the reputation and image of the Company where openness against the customer (partner, investors, and rivals) means the demonstration of honesty and confidence in its technologies.
PLEASE, FEEL FREE TO CONTACT US FOR TOUR BOOKING VIA

Tel. + 375 1775 2 72 72
Mob. + 375 44 566 04 72
JOIN US THROUGH SOCIAL MEDIA


HOW TO REACH US


By bus: in Minsk at the bus stop near DANA MOLL shopping center (Vostok tube station) take a minibus to Minsk-Zhodino direction till Zhodino final bus stop



By railway: Institut Kultury or Minsk-Vostochniy station in Zhodino direction till Zhodino-Uzhnoe station



Transfer By airport transfer from Minsk International Airport till Zhodino


By car: the motorway M-1 to Zhodino
We are waiting for you. Our address is 40 let Oktyabrya Str.4, Zhodino, the Republic of Belarus
You can contact us for booking via telephone number:
+ 375 1775 2 72 72
+ 375 44 566 04 72
or by e-mail: tur@belaz.minsk.by
DETAILS:

The payments shall be made in Belarusian rubles to OJSC BPS-SBERBANK: OJSC "BELAZ" – Management Company of Holding "BELAZ-HOLDING", 40 let Oktyabrya Str.4, Zhodino, Minsk region, 222161 TRN 600038906 OJSC BPS-SBERBANK MINSK BELARUS ADDITIONAL OFFICE NO. 501 / Republic of Belarus, Minsk region, Zhodino, 222161, 50 let Octyabrya Str. 33а BIC SWIFT: BPSBBY2X IBAN account: BY56 BPSB 3012 1430 6602 8933 0000
Forms of payment:
• by cash;
• by credit card;
• by bank transfer (contract).